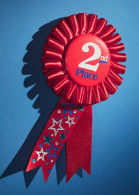 I'm sure the title of this post made you think I was nuts and perhaps crazy. Yes I am competitive – ok very competitive and want to come in first all the time. As I get older it's about a lot of things. Effort and how you show up are very important.
About a month ago we found out we didn't get a piece of business that we wanted. Yes we want all business for which we are lucky enough to send a proposal, but this business was a little different.
It was a nice-sized project, and would have given our team a chance to utilize some different skills. As part of the project we would have been given an opportunity to present this to our client's clients and be involved in the sales process which would have been very cool. Also the main contact at the client is one of the nicest people I have ever met in the research industry. He not only is very intelligent, he is very, very caring about his research partners and kept us informed every step of the way. His communication skills are a benchmark for everyone's communication skills. In addition, the project was in the sports industry so you can see why we really wanted this piece of business.
Our proposal that we sent was solid. The client narrowed the potential vendors from ten to four and we were one of the lucky four. Next stop: a trip to NY and a presentation in front of the client team which was ten people. Although I was there, I talked very little but rather watched our research team razzle and dazzle the client. Our team of SH and SH was great. They knocked it out of the ballpark and frankly in my mind couldn't have done anything better. We had a terrific methodology, a great research plan and they both answered all of the clients' questions like champions.
Frankly I was–and still am–VERY proud of both of them.
Well we didn't get the business. Our contact scheduled time with our team to review the reasons why we weren't selected. Side note: don't we all wish clients would do that? How many times do you send a proposal and NEVER hear back from the client?
The bottom line for me was we not only tried our best, we really performed at a very high level but weren't awarded the prize. Since we gave it our best, did everything we possibly could, I say "Sometimes it's okay to come in second!"
Do you agree with that statement?

Do you have to win in everything you do?

What are some of the things you teach your kids about winning and losing?

Have you been proud of your team or yourself when you have come in second, third or beyond?
I look forward to reading your comments.