Well, just an ordinary day in Dallas. As I get out of my air-conditioned car I noticed the temperature gauge is sitting at 100 and thankfully I only have a short walk. That walk consists of 20 steps to the mailbox and then 35 steps into the air-conditioned house. Sounds like an ordinary day so far except as I was going through the mail and praying I had no bills (which wasn't the case) I noticed that my son got some mail. No, it wasn't a credit card offer or a magazine subscription. He actually got mail. It was a postcard that read: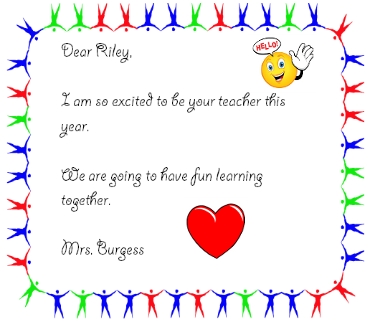 A few comments:
Amazing that he started the school year on Monday and got the postcard on Tuesday. Way to be organized Mrs. Burgess.
The postcard made Riley feel wanted, accepted and like he belonged in the class. Way to be relevant Mrs. Burgess.
The postcard got Riley very excited about learning something this year. Way to be impactful Mrs. Burgess.
Yes, I knew the school system in my town was good but frankly I thought what she did, how she did it and what she said was terrific, amazing and will have a very positive impact on my son. First of all, thank you, Mrs. Burgess, for making a difference.
I am sure there are similar stories out there that involve teachers:
What have your kids' teachers done that has impressed you?

Are there any games they are playing in the classroom that have helped them learn?

What programs do your kids' schools have that are very impactful?

If you are a teacher, what are the most effective programs that you have/teach in the classroom?
I really look forward to hearing your comments.
PS – As I write this posting, I have not met Mrs. Burgess. That will change as I plan to go in one day and personally thank her.