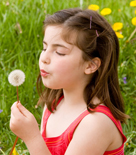 Over the past week, my 3-year-old daughter has said some of the funniest things and I thought I would share a few of them:
My brothers make me so angry!

Daddy, are you speeding?

Riley, you stink you should take a shower!

Daddy, don't I look so beautiful?
All classics! Kids say the funniest things sometimes, and I will always remember these times!
What are the funniest things that your kids have said to you?

Any classics from your grandchildren?
I look forward to reading your comments.