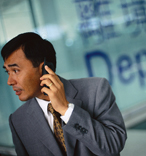 Okay, perhaps the story is a little comical (or at least to me). I was reading USA Today the other day and the article was entitled, "Air delays are worst at some big business-travel destinations". Okay, so here was the funny thing about that: I not only was at the airport – you guessed it. My flight was delayed. No surprise – it happens to all of us. If you travel often, you have had tremendous delays and probably have some very funny and interesting stories. As I was looking at the best and worst on time arrivals I really began to chuckle. The reason was, I only flew into the top 10 on time areas once last year. Only one time! As opposed to flying into the bottom ten probably every three weeks. Today the real question is, what do you do when you have delays:
Do you read a book?

Run around the airport?

Listen to music?

Watch a movie?

Ride the tram?

Call your parents?

Catch up with friends?

Make new friends?
For me I try to catch up on my reading. I usually have lots of articles in my briefcase and find the delays a good way to catch up. I also try and keep in touch with industry contacts and have a list of people to call.
What do you do?

Do you have a routine for delays?
I look forward to reading your comments.