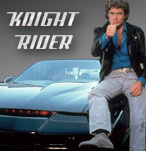 Over the years all of us have probably watched thousands and thousands of TV shows and noticed lots of different things. For me I always enjoyed what cars the actors and actresses were driving.
Do you remember the A-Team's GMC C-Series van? Who could forget the Ferraris in Miami Vice – used to love to see Don Johnson driving fast in the streets of Miami while wearing his white suit with white shoes. Of course Tom Selleck also drove a Ferrari in Magnum PI. And of course there were the funky, crazy Batmobile, the Munster Koach and the Partridge Family bus.
For me there are two shows and cars that were my favorite. I really like James Garner who starred in the Rockford Files. Great show and I really liked the Pontiac Firebird he drove, I also loved the show Vegas. Dan Tanna played by Robert Urich drove a really cool, sleek red 1957 Ford Thunderbird. I must admit I thought Dan and the car were the greatest.
Ok your turn.
Did you watch a TV show because of a car?

What was your favorite car/van/bus on a TV show?

Did you ever purchase a car because you saw someone on TV drive it?
I look forward to reading your comments.