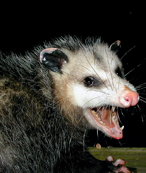 So there I was getting out of my car on a Wednesday night at 9:00pm. I was in shorts and the sweat was still streaming down my face from my workout.
Out of nowhere I hear this voice yell out my name. It is pitch black and I can't see anything, but I hear my name spoken for a second time. I look around and see my neighbors calling me over to their property. As I got closer they said there is a possum stuck between our fences. Of course I had this look of, "Are you kidding me? And of course even if it was true, what do you want me to do about it?"
Finally I said, "Ok let me see." Sure enough I hold the flashlight to the fenced in area where this ugly-looking possum was not only looking at me but hissing and showing me what appeared to be a TON of sharp teeth. My next door neighbors are talking and say we could hit it over the head or call animal control.
After discussion we decided to help the possum. I said do you have something that we could use to push it back towards my property and see if that helps. My next door neighbor responds with "How about a broom? We can put it in its mouth and push it out that way?"
After pausing for a second (yes in shock that he said it), I responded with "I am no possum expert, but if we put a broom stick in its mouth and push it back, it might hurt a ton – just my opinion."
Anyway we went over to my property to see if I had anything a little more gentle and sure enough I did. Now I am standing a few feet behind this disgusting looking animal and can only see its back and of course it is still hissing. I could see what it was caught on and finally was able (without hurting it) to gently push it through the fence.
As it scurried away into the woods, the three of us actually felt good about saving the animal.
Have you ever saved an animal?

Can you describe the experience?
Look forward to reading your comments.