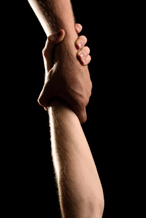 I had an early morning flight so I found myself having breakfast at TGIF at DFW airport. As I looked up I noticed two people at the table next to me engaged in a conversation while they were enjoying their breakfast. I also noticed they are in the military and one of the gentlemen's last name was Kidder. As I was handed my check I noticed they asked for theirs at the same time and the server had mentioned that their check was taken care of by another guest. They were thankful, quite surprised and very appreciative that someone anonymously had done that.
Clearly that was a great kind gesture.
It got me to think about the times that I have done something nice or paid for something for a total stranger. Here are a few things I came up with.
Recently, I brought a total stranger into the Admiral's Club. I had been flying back to Dallas, and sat next to a person on the plane who was elderly and very sweet. He had a two hour layover. Even though Dallas was my destination, I walked him into the club.
About a year ago, I was at the register and someone didn't have enough money and I offered to pay for them. It was only about seven dollars but I thought it was the right thing to do.
About two months ago I was getting my shoes shined in NY and started to chat with the guy sitting next to me. After I was done and said good bye to the shoe shine guy and the man, I said to him, "I enjoyed speaking with you and your shine is on me."
When was the last time you did something nice for a total stranger?

Did you ever buy a stranger anything?

Have you ever treated the military to a free meal?
I look forward to reading your comments.