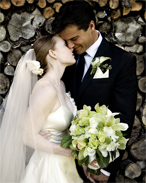 A few weeks ago I had the opportunity to attend a friend's wedding. First of all congratulations to J.O. and D.Y. Like most of you, I have attended a lot of weddings and most of them are the same.
This one was different for so many reasons:
They asked the guests to arrive one hour prior to the ceremony so they could spend time with them before the wedding

They faced their guests during the ceremony

They held hands the entire ceremony

They left flowers on a chair on behalf of all of their family who had passed on and couldn't attend the ceremony

The couple wrote the entire ceremony (which was beautiful) and the minister actually cried during the service

All of the guests signed a long white scarf when we arrived and during the ceremony they commented on the scarf and actually wanted all of their friends to be around them when they got married and had the scarf draped over both of them

After the ceremony, they went around to everyone and kissed them prior to going into the cocktail hour
I was so impressed with the level of detail of everything they did. They said "I Do" and frankly did it their way!
Have you attended a wedding where the couple did some different things?

What's the best thing you remember about your wedding?

Other than your own, describe the best wedding you have ever attended.
I look forward to reading your comments.