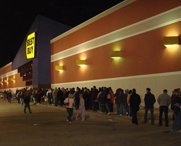 They say that the biggest shopping day of the year is always the day after Thanksgiving. I guess it is the official first day of the holiday season. Everything appears to be on sale and customers line up for hours for the big sales. Sometimes people are so emotional it can even get foolish and have a fight break out over an item on sale.
Retail stores are very creative these days and serving coffee while people are in line and opening at some really, really early times. I have gone out in the past, but this year I was at my sister's and didn't have a chance to go out.
I have so many questions:
Do you look forward to Black Friday?

Did you go out this year?

Were the sales better than in the years past?

What did you buy?

Who had the best sales?

What store had the best promotions?
I look forward to reading your comments.