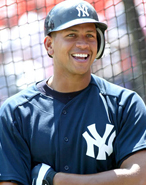 Many of us love sports. Many of us have opinions about sports and athletes and frankly some of those opinions can be very strong and in many cases wrong. Well I am no different. Please read on and you will see what I mean.
Dear AROD,
First of all before I congratulate you on being part of the NY Yankees 27th championship I need to apologize. I have said for many years that you would NEVER win a World Series ring. I had truly believed that you were a special player in April thru September but on the highest stage against the best teams your performance was less than stellar. I had also believed you were a selfish ballplayer and a person that didn't make teammates better. Well I couldn't have been any more wrong. Yes you had an amazing regular season and performed at the highest level, but that continued in the playoffs and frankly without YOUR performance, the NY Yankees probably wouldn't have won the World Series.
I must also say that I grew up in Boston, love the Red Sox and dislike the NY Yankees. So for me to write this was very difficult.
I wish you only the best in the off season and a speedy recovery if you have surgery.
Merrill
Well I did it. For years I have been bashing AROD and now feel a little better apologizing to him. I realize that he will never read this blog but I still wanted to apologize.
Is there someone that you have bashed that you would like to apologize to?

What would you say to that person?

Have you shared your new opinion on that person with your friends?
I look forward to reading your comments.