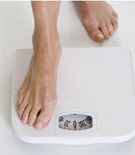 As this year comes to a close lots of people including myself will make New Year's resolutions. A number of people will probably have their resolutions around getting in better shape and losing weight. That's probably the main reason the workout facilities are all jammed for the first six weeks of the new year.
The question for me isn't about getting in shape or losing the weight. Isn't the real question being able to stay in shape and keep the weight off? I am sure that most people who are reading this blog have wanted to or have lost weight in their lives. If you are like me, you have put it back on a number of times.
I have tried hard to keep exercise as a routine in my life and try (very hard) not too eat late at night. I know I should take vitamins but I don't and probably should change this very soon.
Any ideas on:
How to we keep the weight off?

How we all can stay in better shape?

How to keep the workout facilities busy every month of the year?
I look forward to reading your comments.