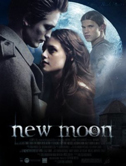 Every week I get asked to write about different topics. Today's post is no different. Well maybe a little. As I was getting my haircut, we (thanks S.Y.) were discussing the new movie that was coming out, New Moon. Much to everyone's surprise I had NO idea what they were talking about! Quickly they asked me what I thought of the movie Twilight, and besides having a puzzled look on my face I had little to no response. I may have heard of that movie but I don't remember and I know for a fact I never saw it.
When I don't know something about a particular blog topic I will do some research. For this one I decided not to do that and have the readers inform me on what I am missing. I have NO idea who stars in the movie, what the movies are really about other than it involves vampires. I have no idea who the director or producer is–in fact I couldn't even tell you the city in which the story takes place. I didn't even know until they screamed at me, about the books that were written. Clearly I have been living under a rock and missed all the hoopla. I have noticed people wearing New Moon shirts but that was after getting laughed at while I was getting my haircut.
So please fill me in.
What are the movies about?

Have you read the book?

Was the sequel any better than Twilight?

Is there another movie planned?

Were you one of the first to see the movie?
I look forward to your comments and seeing what I am missing.