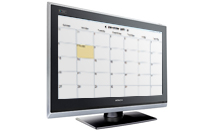 Like most of you I travel a fair amount. Like most of you I have kids that are getting older and their schedules are challenging to keep up with. In essence, life is more complicated than ever with trying to juggle everything and ensure that everyone is where they need to be at the exact time.
Can't the TV help with this? I think so, and this is what I am proposing.
A new TV channel that customizes your schedule on TV so everyone in the house can see what is going on and when. Almost Microsoft Outlook on TV. Think about it as an easy way to input all of the kids' activities, travel schedule and many other things. How cool would it be if your eight-year-old got up and turned on the TV to see not only his schedule for the day but everyone else's in the house?
I think pretty cool.
Am I crazy?

Do you think this is a good idea?

Would you pay $10.00 month for this service?

If not what would you pay?

What other features would this new service have?
I look forward to reading your comments.