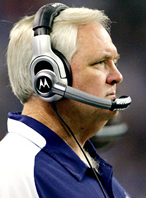 Wade Phillips

I hate to see someone lose their job, I hate to see someone's contract not get renewed and I really, really hate to see someone get fired. With all of that said, no matter what happens moving forward, Wade Phillips CAN'T be the coach of the Dallas Cowboys for the 2010 season. Here are a few reasons why:
He is too nice of a guy

He is Jerry Jones' puppet

He can't win the big games

He can't win in December

I don't think he is great with the media
All of that is JUST MY OPINION. I have never met the man and I am not in the inner circle of the Dallas Cowboys. But here is what I do know. The Dallas Cowboys deserve a great coach! The Dallas Cowboys deserve someone that every year will give them a chance to win the Super Bowl. The Dallas Cowboys need a coach who can make a positive difference in every football game. The Dallas Cowboys need a coach that can argue and win some arguments with Jerry Jones. The Cowboys are one of, if not the biggest sports franchise in the world, and the fans, Dallas community, NFL and past players all deserve the best.
Sorry, Wade. You need to go.
Jerry Jones is a great marketer and businessman. Extremely successful. More successful than I will ever be or ever dream of but I think he should look himself in the mirror and relinquish some of his football duties and decision making.
I believe they should hand the keys to Cowboys Stadium, the team and the entire football operation to Bill Cowher. He is a great coach and will allow Jerry to hoist the Super Bowl trophy very, very quickly!
And by the way. How cool would it be if he was able to do that his first year with the Cowboys with the Super Bowl being played in Dallas.
Your turn.
Do you agree with my assessment?

What do you think of my choice?

Who do you think should coach the Cowboys in 2010?
I look forward to reading your comments.