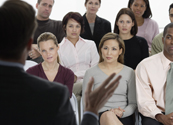 The fall brings a lot of different things besides colder weather; it also brings a heavy research conference calendar. AMA, IIR, CASRO, MRA, WOMMA, ESOMAR, QRCA and many others all had research-focused conferences.
Recently when I was at a conference, one of the new contacts I made mentioned which of the concurrent sessions he was going to and then added something odd. He said, "I'm a mover." When I asked for clarification, he replied that most concurrent presentation sessions aren't good and when he starts feeling one is a total waste of time, he MOVES to another session.
This conversation gave me a chance to think about what makes a presentation good, and made me wonder what people really want out of a conference presentation.
Here are a few things that I really want:
I really want to hear results. Not pie in the sky but results on how a system or procedure saved them money, increased revenue, led to a successful new product or something like that.

I also would like one takeaway — one thing that I can implement or at least evaluate at our company

I want the presenter to have me think about something differently. I really want to be able to say, "Hey that's interesting, I never thought of it that way."

Clean slides. I don't want to have slides that are very text-heavy and hard to follow.
What about you?
What do you really want in a conference presentation?
I look forward to reading your comments.