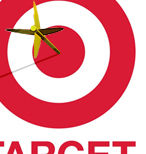 Last month I was reading USA Today and noticed a really cool ad. It was a full two page ad with a headline of "You Asked For More Here Goes". A few weeks earlier Target had published an invitation to tell them what more they could do for their customers. They received over 600 responses and followed up with this two page ad highlighting what people said and what Target is doing about it.
Here are a few examples of the five they listed:
Customer said:
You could do a much better job of replenishing your stock, especially in the food.
Target's response:
To better meet our guests' wants and needs, we're making improvements to our replenishment methods. Specifically, in the refrigerator/freezer case, product is being filled every hour – directly from the truck whenever possible.
Customer said:
Can you offer more Plus Size women's clothing:
Target's response:
Launched last month, our new Pure Energy brand delivers fashion-forward looks for Plus Size women to complete their wardrobe at affordable prices, with new styles arriving in stores each month. And for other brands you can always find a broader selection of Plus Size options at Target.com.
For me I really liked the fact that the ads included marketing research. It made me feel a little bit better towards their company, what they were selling and it would make a difference to me for shopping at the store and buying products.
What about you?
Do you like when companies include market research in their ads?

Can you think of any others that are currently doing that?

As a researcher, how does it make you feel when a company does this?
I look forward to reading your comments.