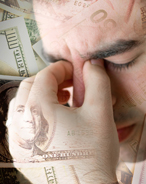 Six months ago I asked the question, "What has the economy taught you?" Six months later the economy is still horrible–yes all of us still have friends who have lost their jobs and know companies that have had major layoffs and even some that have gone out of business.
The question is, what did you learn over the past year? I truly believe that every situation is a learning experience and clearly there are many learnings from the past year.
Did the last year teach you:
That you should have saved more money for a rainy day?

To stay in touch with industry contacts?

To make sure you are improving your skills every day?

To work harder and smarter at work?
For me the last year taught me about speed–that I wasn't making decisions as quickly as I should. When things are going well it's easy to put off decisions that you should make – and I fell into that trap. This is a mistake I will try and learn from.
Now your turn.
What did the last year teach you?
I look forward to reading your comments.