Recently I read a very interesting article about children and mobile phone usage. As my kids get older I have been thinking about when they should have a cell phone and for what purpose. Meaning to stay in contact with their parents, their friends, play games, listen to music or 20 other things?
Americans are beginning their "always-on" habits at a younger and younger age, according to the "American Kids Study" from Mediamark Research & Intelligence's (MRI's) as reported by eMarketer.
I was shocked to read that more than one-third of 10-to-11-year-olds in the US owned a mobile phone in 2009, compared with 20% in 2005. That is a huge increase over a 4 year period. Ownership among kids ages 6 to 11 rose from 11.9% to 20% over the same time period.
It was also interesting to read that in 2007, ownership among boys was 12.4%, while 18.6% of girls had a mobile phone. I assume this has more to do with security than maturity?
Penetration increased for both groups, but ownership among males increased faster, helping them catch up and narrow the gender gap to 18.3% versus 21.8%.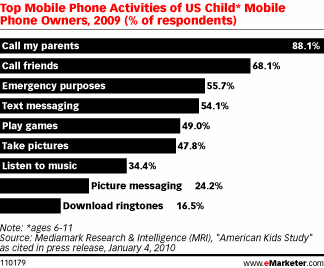 "Preliminary data suggests that boys and girls may use their phones differently," noted Anne Marie Kelly, SVP, marketing and strategic planning at MRI, in a statement. "Girls are more apt to make calls and send text messages while boys are more likely to instant message, access the Internet and download games, music and video."
What do you think is the perfect age for your child to have a cell phone?

Does it differ by gender?

Do you restrict their usage to certain times of the day?

What applications like texting, music, and games do you allow them to have?
I look forward to reading your comments.