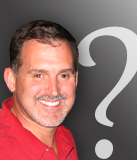 Merrill Dubrow
Man of Mystery

Yes you know I am a passionate baseball fan and love the Boston Redsox. Yes you know I have worked in marketing research for over twenty-five years. Yes you know I live in Texas and am very competitive. But five things you probably didn't know:
That I broke my collar bone not once but twice as a kid? The first time was playing street hockey and the second time was at the beach when I was buried in the sand standing up – yes standing up and when I tried to get out – well let's just say that didn't work out too well.

I have two sisters–one who has been in the healthcare field and has the biggest heart in the world and the other one is in new business development and is better at sales than I ever have been!

I lived in Deerfield, IL when I was 11 years old and still can remember going to the tennis courts and actually putting my hand under the fence and stealing tennis balls (certainly NOT proud of this) WHILE there was a game going on.

I rarely drink and sometimes can actually feel the effects of liquor after 5 sips of a beer.

The most famous person I ever had dinner with (by far) was Reverend Jessie Jackson. This was a few years ago in LA at Dantana's and was an amazing experience. There were only six people at the table and he was very charismatic and charming.
Ok now you know a little more about me.
What about you sharing a few things about you that I don't know or would be surprised to know?
I look forward to reading your comments.