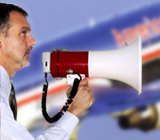 Last month I had eight scheduled flights on American Airlines. Unfortunately four or exactly half of those flights were cancelled. As you are reading this you might be thinking:
He is very unlucky

He flies too much

The same thing happened to me

What's your point?
After my last flight was cancelled and I was on my next flight, I started to think about how funny and ridiculous this was at the same time. More important what could the airlines do to help out the customers and soften the blow of another cancelled flight. I must admit I found comedy in my last cancelled flight (which was because of a mechanical problem) because the flight attendants made numerous announcements and basically were pleading with customers to take a later flight for a $500 travel voucher. Yes I think it is really funny that customers got $500 to take another flight from a flight that never left! Sorry I just wanted to share that with you.
Here is my idea – I think airlines should give out cards or something that they can keep track of how many cancelled flights a person has. After a certain number–maybe five–the traveler gets a free flight?
I realize that some of the cancellations are because of weather (only one out of my four) but lots of them are because of mechanical troubles.
What do you think of my idea?
Do you think the airlines would go for it?

As a frequent traveler do you like it?

Should it be a free flight after five cancellations or another number?

Do you not take a certain airline because of too many cancellations?
I look forward to reading your comments.