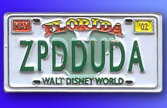 I used to play tennis with a good friend of mine (JL) in Boston and always admired her license plate. It read WEIT. I knew it was a vanity plate but could never figure out what it meant until I asked her. It stood for WHAT EVER IT TAKES. She was in the customer service business and wanted her plate to be a constant reminder to always go above and beyond for her clients.
I have a vanity plate and although it means something special to me it isn't as deep as WEIT. Mine is SOX07. For those who know me well, you know it stands for Red Sox 2007 which is the last time they won the World Series.
Here are some of the ones I have seen over the years:
4sakn

Ddysgrl

MyToy

Was His

I CUFF UM

DRTHVDR

Gore Won

BKRPTCY

KIDLESS

Il Sue U

Blogger
I thought some of the ones I have seen were cute and funny.
Do you have a vanity plate?

What do you think of the ones I listed?

Do you like mine?

What are some of the ones you have seen over the years?
I look forward to reading your comments.