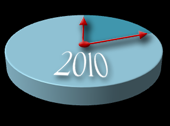 I am assuming that title got your attention and you probably thought to yourself that can't be right! Merrill is crazy! No way is almost 20% of the year over! Trust me, it is and whatever you did or didn't accomplish in the first 71 days of 2010 is in the history books.
For me the year is flying by. January was much better than I thought it would be and February was about what I thought it should be. The net is we are ahead of last year but still cautiously optimistic moving forward. From talking to clients research spending has freed up a little bit and more people are optimistic. Our proposal volume is heavy and clients appear to be making decisions on projects more quickly than in 2009.
What are you seeing?

How are you doing?

Is business better than you thought it would be?

How are you feeling about things?

Are you bringing in as many new clients as you thought you would?

Are you still pulling back your expenses?

Are you still watching your travel and marketing budget as closely as you did last year?
I look forward to reading your comments.