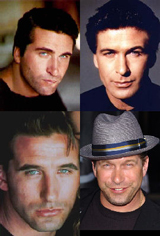 I was watching the Academy Awards earlier this month and was looking at Alec Baldwin and thinking about his brothers Daniel, William and Stephen. What a family of actors. It gave me a chance to think about other Hollywood families and after thinking about it and doing a little research came up with a few:
Penn
Douglas
Bateman
Cusack
I must admit I do like a few of these families. I really like Joan and John Cusack and I always liked Stephen Baldwin from his performance in The Usual Suspects. My favorite is hands down the Douglas family. I love Kirk and I also really, really like Michael. Both great actors!
Who is your favorite Hollywood family today and what about years ago?

Who do you think is the number one Hollywood family of all-time?
I look forward to reading your comments.