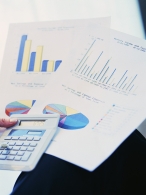 Lots of the readers of the blog are involved in market research. They sell market research and they partner with market research companies. Here is the million dollar question:
Do they use market research to move the business forward?

Do they use a formal customer satisfaction program to keep in touch with their clients?

Do they formally follow up after proposals and projects to see how they do?

Do they tabulate the information and discuss it in meetings?

Do they react to the findings and adjust business practices?
All good questions to really think about. With our business we have a few programs in place. After a project is complete we send out an online survey called Client Voices. This is our customer satisfaction tool that has been in place for years. We have tremendous trending information and constantly are discussing it and making decisions based on the feedback. In addition any score that we deem as low, I personally call the client and discuss the project in depth. Also we have company awards given out on an annual basis and one of the awards is a client delight award which is given to the team with the highest customer satisfaction score. In addition to this program, we have another one called Proposal Voices. This is an online survey that we send out three weeks after we send a proposal. Again we tabulate this information and use this as a key management tool.
What do you do?

Do you have a formal process in place?

What are the recent learnings?

What decisions have you made based on the feedback?
I look forward to hearing from you.