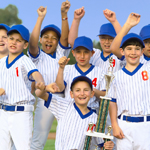 I must admit–all of my kids impress me. But today I want to focus on my oldest.
J.D. has been playing sports for over four years and has always tried very hard. Unfortunately he followed in my footsteps as a kid and isn't the greatest athlete in the world. He isn't the biggest or fastest but does have a great attitude today and in the past. He tries hard and always tries to get better each and every game.
Well I am excited to say that he is doing something that is incredible. He is in "coach pitch" and hasn't struck out in almost 18 months and as I type this posting he is 24-24. Yes he hasn't made an out this year! Has gotten on base every time he got up! His year started with 2 home runs in game one (yes he did get the game ball) and he hasn't stopped pounding the ball since.
Yes he is 24-24 and certainly I am excited for him but I am more excited and more proud of him for being a really good team player. He high fives teammates, cheers them on, is VERY respectful of the coaching staff, NEVER cries and always is smiling. JD I am so proud of you!
Time for you to share and brag a little bit:
What have your kids done that has made you feel most proud?

Are they athletic?

Are they creative and involved in plays and music?

Are they artistic, great at drawing or arts and crafts?

Are they president of their class?
I look forward to hearing your comments.