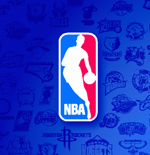 Ok I will admit that I do have two favorite NBA teams! One is in the Eastern Conference (my beloved Boston Celtics). And . . . having been in Dallas for 5+ seasons has transformed me into a big Dallas Mavericks fan. The Mavs of course, play in the Western Conference.
The question is who will win the NBA Championship this year? Wow. To me I don't believe it is an easy call. All eight playoff teams in the West have at least 49 wins and only 7 games separate the best record in the West: LA Lakers and Oklahoma City. An injury here and there and anyone can win. A team gets a great matchup or gets hot, the next thing they know they upset a higher seeded team. FYI – the Hottest team in the West is the Phoenix Suns who are 8-2 in their last 10 games.
In the East, wow. Would love to say the Celtics are going to do it. Some would say they have been coasting for a month and waiting for the playoffs to turn it on. Not sure I buy that. And, by the way, they will probably draw the toughest first round opponent–the Miami Heat–who happens to be the hottest team in the NBA with a 9-1 record in their last 10 games.
So here is what I think happens. In the East, Cleveland will play Atlanta in the Conference finals and in the West it will be The LA Lakers going up against the Dallas mavericks with . . . the Mavericks losing to Lebron James and the Cavaliers in 7 games! Yes, Lebron will win the MVP.
Now your turn:
What do you think of my prediction?

Which team do you think will get hot?

Who will win the NBA Championship?

What about the MVP award?
I look forward to hearing from you.