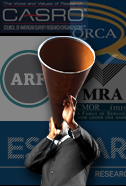 I thought maybe that would grab your attention. Basically let's assume that all the research organizations got together on a joint project and were looking for a spokesperson for the industry. We would have one person that could be highlighted in ads, online videos and on TV. That person could be you! This person would be paid $100,000 per year to be the spokesperson and share their thoughts about this great industry and how important it is to the success and failure of companies. You could say whatever you wanted!
What do you think?

What would you say?

What would you highlight in your message?

Would you mention certain products/services that benefited from market research?

Would you include some of the most famous researchers like Arthur Nielsen, George Gallup and JD Power?

How would you convince people how important market research is to companies?
I look forward to reading your comments and hearing what your message would be as the NEW market research spokesperson!