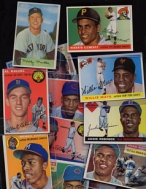 When I was a kid I couldn't wait to run to the store and buy baseball cards. I loved the sport, loved watching the sport, loved going to Fenway Park and even though I wasn't very good I loved playing baseball. At night I would always take out my shoebox of baseball cards and look at the players bio's, stats and try and answer the trivia questions. Ok I will admit it I collected baseball cards as a kid. I still have a ton of cards and planning on giving the collection which includes a ton of autographs to my kids.
When I was younger I also collected stamps but didn't have the same passion I did as baseball cards. Even though I am not sure I would call it a collection (maybe I should) I have over 1500 books (estimate) with subjects ranging from sports, to research and business.
Lots of my friends collect different things that range from plates, magnets, postcards, maps, beer cans and many other things.
Now your turn:
What did you collect as a kid?

What do you collect now?

What do some of your friends collect?
I look forward to reading your comments.