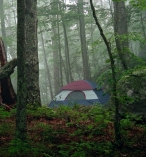 Last week I was talking to a buddy and the conversation ended up going into a discussion about camping. He was telling me that he was going camping with his son and wanted to know if I have ever done that, liked doing that and would ever consider doing that?
Then we started chatting about funny camping stories and found ourselves laughing up a storm at stories we have heard in the past.
My funniest camping story was when I was in college my buddies and I had rented a tent, all the other stuff and drove down to Cape Cod to rent a camping spot. We were all excited except one thing didn't cooperate the weather of course… It basically poured and we couldn't set up the tent. Ok I am not handy but my friends were and after battling the elements for a few hours, we ended up in a hotel room and tossed the tent in the corner for the weekend.
Ok stop laughing please – we tried and failed. Actually I am not a camping guy and hope I don't have to do it anytime soon.
Ok your turn:
Do you like to camp?

Have you run into any animals in the wilderness?

Any funny camping stories to share?
I look forward to hearing from you.