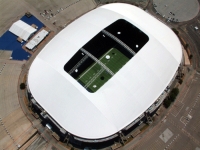 Was Sunday April 12, 2010 just another day? Perhaps some may think so. It is 7:00am and the sun is about to come up, this morning was different than most since in the blink of an eye Texas Stadium home to the Dallas Cowboys and 5 Super Bowl trophies is being imploded! I thought about going and watching it live but decided that I would watch it on TV.
It is amazing watching stadiums that have so much history and tradition reduced to rubble in a matter of a minute.
Over the years I have been to a tremendous amount of stadiums that are no longer with us or no longer in use. Here are the first ten that came to my mind:
Boston Garden

The Vet in Philadelphia

Jarry Park in Montreal

Kingdome

Tiger Stadium

Shea stadium

Old Yankee Stadium

Chicago Stadium

Busch Stadium

The Forum in Los Angeles
As you know I love going to stadiums and sporting events. Some of my favorite moments at stadiums that are no longer with us include:
A trip to Jarry Park in 1971 with my parents and having Steve Carleton tossing me a ball — which I actually caught!

A trip with E.S. to the 1993 NFC championship game at Texas Stadium – wow I still get chills thinking about that game

The 1984 NBA finals at the old Boston Garden between the Celtics and Lakers
Now your turn:
What are you favorite stadiums that are no longer with us and why?

What stadiums have you been to that are no longer in use?

Have you watched any stadiums implode?
I look forward to reading your comments.