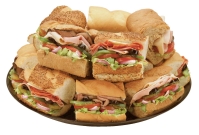 In different parts of the country you may go out for lunch and get a hoagie, or a sub or even just a deli sandwich. Having lived in a number of spots I tend to call a sandwich a sub (short for submarine sandwich) and people do look at me a little odd.
There are so many choices to get a hoagie, sub or whatever else you want to call it. I paused for 60 seconds and wrote down all the places I could think of. Here is what I came up with in no particular order:
Jersey Mike's

Subway

Quiznos

Jason's Deli

Atlanta Bread Company

Corner Bakery

Panera Bread

Blimpie

Schlotzsky's
I must admit putting together the list was harder than I thought. For some reason I drew a blank and I am sure I am missing some really obvious ones.
For me I really like Jersey Mike's (love the Philly cheesesteak) and Schlotsky's (I find the bread amazing).
Who did I leave off the list?

What is your favorite spot for a hoagie or sub?

What do you call a deli sandwich in your part of the country?
I look forward to hearing from you.