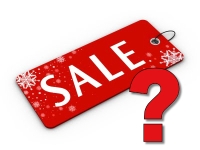 I was buying a Sunday Dallas Morning News newspaper last week in a Walgreens and I noticed a promotion they had that was displayed at the cash register. The item was a book that was selling for $21.99 or you could buy two for $43.98. Even though it was very early, I could still do the math and quickly figured out that there was NO discount for buying additional copies of the book. Quickly I thought — Are you kidding me! That's the promotion you went with! That's the impulse item you put next to the register. Even though I am not a retail guru I would think that the planners or store managers would use that sacred space for items that really move and frankly can make them a lot of money.
Instead they go with a promotion that to me isn't even a promotion.
With the economy being the way it is doesn't everyone want and almost need to get a deal?

Isn't everyone looking to buy something on sale?
There are a number of promotions and deals that really can work. Lots of retail stores are doing:
buy one get one free

Pay full price for the first item and the second is a penny

Buy two suits and get a sport jacket for free
Retail stores are really getting creative these days.
What promotions do you like?

What promotions in your opinion don't work or a total waste of time?

What retail store does the best job?
I look forward to reading your comments.