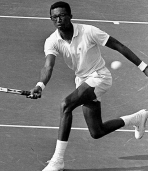 A little different spin today. I would love to discuss not the best athlete of all time but the most memorable. The word memorable could mean a lot of different things.
It could mean they changed their sport like Jackie Robinson, Bill Russell or Joe Montana

It could mean he did different things on the field or court like Mark Fidrych

It could mean they were very flamboyant like Hector Camacho

It could mean they were very confident or over confident like Larry Bird

It could mean they had an ugly temper like John McEnroe

It could mean they were soft spoken and just were great like Walter Payton

It could mean they had amazing celebrations on the field like Chad Ochocinco
Not sure what it means to you so I will let you pick whatever definition you would like.
For me here are a few of my most memorable:
Arthur Ashe

Dennis Rodman

Jimmy Connors
Now your turn:
Who is the most memorable athlete of all time?

What do you think of my choices?

What is your definition?
I look forward to reading your comments.