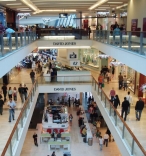 Yes you heard that right. A mall (your mall) is a little different than any other. The mall (your mall) will only have 3 stores in it and guess what – you get to pick the stores.
You literally have thousands of stores you can choose from and don't worry about what the rent will be your stores will pay whatever you want them to pay.
The question is with so MANY choices what are the stores in your mall?
For me this was a little bit of a challenge. Initially I paused and my first choice was Nordstrom Rack. I have been shopping there for over a year and I like the style, store layout and prices.
My second choice would be Nike Town. Like the one in Chicago… Huge! I would love it to be interactive for the kids, huge, lots of levels and have tons of great merchandise.
My third choice is a little bit of a combo. So it would be a Barnes & Noble with a Starbucks café. Love to read, love the store and love Starbucks (even though I don't drink coffee) as long as they always have rice krispy treats.
Ok your turn.
One mall (your mall)

Three stores!

What are your stores?

What do you think of my choices?
I look forward to hearing from you.