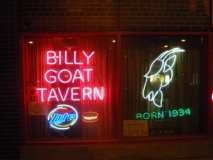 So there I am walking on the streets of Chicago with a co-worker on our way to the conference hotel. As we were walking I asked R.W. if he had ever eaten at the Billygoat Tavern. He said he hadn't and I followed up with do you know what it is? After he gave me that perplexed look I explained it was the restaurant that was featured in the Saturday Night Live (SNL) Skit "hamburger, cheeseburger" over 30 years ago. He remembered that and we chuckled at how funny Dan Akroyd, John Belushi, Bill Murray and Gilda Radner were in the skit
Our conversation then morphed into what are the funniest SNL skits of all time? When I think about that a few more come to mind:
The Chippendales dancers featuring Chris Farley and Patrick Swayze was absolutely hysterical. I still crack up thinking about it.
The other one I remember was Christopher Walken and Will Farrell with Blue Oyster Cult in more cowbell – very creative and funny! Watching Farrell dance around pounding the cowbell…is well…ridiculously funny!
What are some of your favorite skits of all time?

What do you think of my choices?

Who were your favorite characters on SNL?
I look forward to reading your comments.