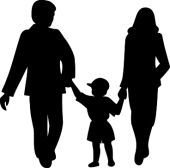 I have been in the research industry for almost 30 years. During that time I have had the pleasure to work and associate with so many talented people. The funny thing is many of them are related! Not to me but to each other!
When I think about research families – I quickly come up with:
(Two quick things not to insult ANYONE I put the list in alphabetical order and APOLOGIZE to EVERYONE I left off the list)
Baldi: Joe, Janet

Iseman: Carl, Diane

Larson: Kim, Steve

Nichols: Mimi, Aaron

Hayes: Bernyce, Andrew, Matthew

Heakin: Pat, John, Patty, Kevin

O'Connor: Peggy, Tom

Schafer: Marianne, David

Schlesinger: Sarah, Debbie, Steve, Alan, Howard, AJ, Eric

Shugoll: Joan, Merrill, Mark

Weinstein: Ann, Adam
My kids are too young to know what they want to do but who knows maybe they will follow in my footsteps and end up in this great industry.
What research families have I left off the list?

What relatives have I left off the families that I mentioned?

Are you hoping and who knows even nudging a little bit that your children end up in the business?
I really need your help on this and really look forward to compiling a complete list. So THANK YOU in advance for your assistance.