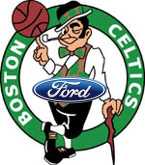 A few weeks ago I was in Boston and attended the Celtics/Lakers game and noticed lots of things. One of those things was a little surprising I noticed on the Celtics mascot (which I don't like) was a Ford logo. Clearly Ford has sponsored the mascot and is trying to increase their brand awareness. We will come back to this point in a minute. The following week I attended another game but this time the game was in LA LA land. Low and behold the LA Lakers' dancers we wearing shirts and promoting the upcoming movie Salt starring Angelina Jolie.
I understand sponsorship opportunities but sponsoring a Mascot and the cheerleaders I don't like. Yes when you look around the arena there is literally a ton of companies pushing their products and services. I am ok with signage, a company sponsorship of the tip off or a timeout, I am ok with the building being named but I think the mascot and cheerleaders is taking it to another level and in my opinion isn't a good idea and shouldn't happen.
What do you think?
Yes or no sponsorship on the mascot and cheerleaders?

Do you think we have too much sponsorship going on in these venues?

What sponsorship do you like the most?

What sponsorship is a total waste of money?
I look forward to reading your comments.