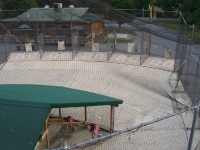 The other day I was driving around and actually drove past a football field with some kids in it and something looked a little odd. I decided to turn around and take a closer look. I saw a number of groups on the field but the one I was most interested in was two kids that looked about 15-16 playing together. One of the kids was on the 40 yard line while the other one was standing close to the goal line. The one on the 40 was alternating between kicking field goals and punts while the other kid was catching the balls and running back the ball. I watched this for about 15 minutes and was amazed that this was happening WITHOUT a COACH! Just the two boys:
Practicing

Getting better

Laughing and enjoying a sport they love
To me that was amazing. I don't see that as much as I did when I was growing up. Lots of kids are inside playing on the web, watching TV or on their iTouch. Good for these kids to be outside and practicing.
It got me to think about how I practice. Here are a few ways:
If I haven't played baseball or softball for a while I will go to the batting cages.

Before I go into a new business development meeting with colleagues I will review what we want to say and accomplish

Before an industry presentation I will review the PowerPoint deck for timing, videos and animation
Practicing is how you get better!
Practicing is critical to your success!
I look forward to hearing from you!