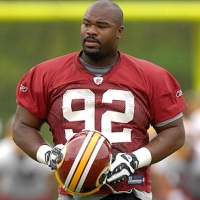 Are you kidding me:
Terrell Owens (TO) showed up late for his first practice with his new team!

Billy Hall (11) has more home runs than Manny Ramirez (8)

Albert Haynesworth has flunked how many conditioning tests in a row!

Fenway Park has had over 600 sellouts in a row!

Bengie Molina is listed at 225 pounds!
Your turn:
What makes you scratch your head and say ARE YOU KIDDING ME?

What do you think of my list?
I look forward to hearing from you.