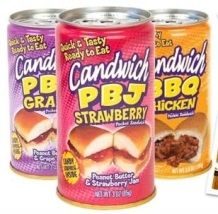 Being in the research industry for over 25 years has given me the opportunity to see and taste lots of new products. Over the years some of those products were a complete success while others fell by the way side. Someone on our team shared an article (thanks D.S.) regarding a new product.
The inventor is Mark Kirkland and the product is Sandwich in a can or actually Candwich.
He actually has a few different concepts:
Sandwiches in a can.

Pizza in a can.

French toast in a can.

Cinnamon rolls in a can.
Mark chose a can because, when combined with techniques similar to those used to preserve Meals Ready-to-Eat for soldiers, an aluminum can keeps food fresh for a full year or even longer.
Another benefit is they can fit into a soda vending machine so the Candwich products can easily be sold in both stores and vending machines. Assuming one thing he has consumers who are willing to try the product that will be selling for $2-3.
Some of the Candwich's are peanut butter and jelly, BBQ Chicken and the BBQ Beef Candwich.
Ok I will go first. I would say no to a sandwich in a can no matter how good it tastes. To me it just doesn't sound right. There is NO way I would eat pizza from a can. I want my pizza rolled out with toppings and piping hot. I might consider French toast in a can for a minute but I think I wouldn't do it. However Mark sign me up for a Cinnamon roll in a can — to me that sounds reasonable and I would buy that product.
Assuming it tastes ok would you buy the product.
What about you? Would you buy:
Sandwiches in a can.

Pizza in a can.

French toast in a can.

Cinnamon rolls in a can.

Have you seen or bought these products or similar ones
I look forward to reading your comments.
PS: Mark good luck I hope your Candwich is a complete success!