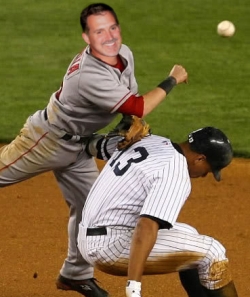 Another day in Dallas and another day that the weather approaches 100 degrees. I will admit I truly love the heat and dislike cold weather and HATE snow! As I am getting dressed and stretching for my softball game tonight I am a little more excited than normal. I have a little more bounce in my step than most other days. Why you ask? Because I have an early game and my son will be watching me play for the first time. He has become a really good baseball player and I watch him as much as I can and now he gets to watch Dad, the old man and see if I can play this game.
I didn't realize how much I would enjoy having him there, cheering me on. It was cool to be in the field and see him in the dugout. He was actually watching me, trying to understand the game a little more and NOT playing his iTouch! That in itself was a shock.
I pride myself on always giving my all, trying 110% every time I am playing a sport but I realized that might not be the case! Ugh I found myself digging a little deeper, running a little harder and concentrating a little more because my little guy (thanks J) was watching, cheering and hopefully was going to be a little more proud of me and my athleticism.
Do you try a little harder when:
Your friends or family are watching?

You are playing the first place team?

You are playing a team or person you lost to a few weeks earlier?
I thought I always played hard and at the same level and intensity game after game but actually that doesn't appear to be true.
PS – This story isn't about how I did – but if you are curious I had a really good game and went 3 for 4, drove in a couple of runs and played well in the field.