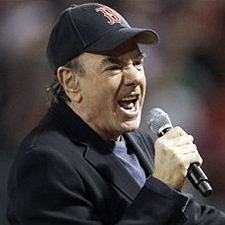 It is a custom of mine to always check the Major League Baseball schedule whenever I have an out of town business trip during baseball season. So when the 2010 schedule was released last November I made a quick check to see if Merrill's beloved Red Sox were going to be in town during June's Marketing Research Association's Annual Conference. Well sure enough they were coming home the last day of the conference to play the Phillies. Thanks to my good friend JM, I was able to get two tickets for Friday night's game and took my friend GB. GB is a big baseball fan, but this was her first visit to Fenway Park. We got there early enough to walk around Fenway twice, soaking up the pre-game buzz, sample some of the local Italian sausages and spent time in Twin 47. The game was over by the 2nd inning as the Red Sox clobbered Jamie Moyer with 9 runs, but we still had a great time enjoying the views and listening to the crowds carry on with their hard "R's".
Then came the middle of the 8th and I realized I had not mentioned anything to GB about Boston and "Sweet Caroline". For those of you who do not know, at every Red Sox home game, Neil Diamond's classic Sweet Caroline is played on the ballpark's PA system before the bottom of the 8th inning and all the loyal Red Sox fans engage in one of the most fascinating sing-alongs known to mankind. Sensing something special, GB whipped out her camera and recorded most of the audio for her family back home.
This incidence got me thinking of the different ways music and sports are connected. As many regular readers of this blog know I have a passion for both.
At first I thought of those classic team fight songs such as "The Notre Dame Victory March" or University of Oklahoma's "Boomer Sooner".
Then there are walk out or entrance songs like "Enter Sandman" by Metallica which is played as Yankee ace reliever Mariano Rivera heads out to the mound or Richard Strauss' Also Sprach Zarathustra (theme from "2001: A Space Odyssey") which many athletes, like pro wrestler Ric Flair, have adopted as their entrance music.
And of course there are songs about the athletes themselves such as Simon and Garfunkel's "Mrs Robinson" with its classic line "Where have you gone Joe DiMaggio?", Bob Dylan's ballad "Hurricane" or The Marroons "Lester Hayes"
I gave this some thought and came up with my three favorite sport related songs.
"Ole Ola" by Rod Stewart. Now you have to be a very big fan of "Rod the Mod" or lived in Scotland during the late 1970's to know of this song. Though he was born in England, Rod Stewart has been one of Scotland's biggest supporters. In 1978 before the Scots made their run for the World Cup, the shaggy–haired one released this gem. Definitely up there with his classics "Mandolin Wind", "Maggie May" and "Gasoline Alley" in my book. http://www.youtube.com/watch?v=I4bqACNrVqs
"D-O-D-G-E-R-S Song (Oh, Really? No, O'Malley)" by Danny Kaye. Pure genius is all I can say. This whimsical song captures Kaye's love of the Dodgers, details the classic Koufax/Drysdale Dodger teams of the 60's and their epic battles with their dreaded rivals from San Francisco. http://www.youtube.com/watch?v=u7qYcyUjDPU
"You'll Never Walk Alone" started out as a show tune from the 1945 Rodgers and Hammerstein musical, Carousel. In England, the song's most successful performance was recorded in 1963 by the Liverpool natives Gerry & The Pacemakers. It quickly became the anthem of Liverpool Football Club and is invariably sung by its supporters moments before the start of each game. In fact, the words "You'll Never Walk Alone" are included in the club's crest! I have not attended a game at Liverpool's home, Anfield, but in 1981 I did see them play in Brighton and was just floored as their fans sang this song in unison without any formal direction. Click here and see for yourself. http://www.youtube.com/watch?v=1I_crD6Oqsw
So now it is your turn.
Do you have a favorite song associated with sports or athletes?
Are you a fan of:
The Chicago Bears "Super Bowl Shuffle"
"Eye of the Tiger" from Rocky III
"Na Na Hey Hey Kiss Him Goodbye"
"Rock and Roll parts 1 & 2" by Gary Glitter
Do you have an old college fight song that touches your soul?
Or have a heavy metal favorite that is played as your favorite player enters the game?
I look forward to hearing what is on your hit parade.