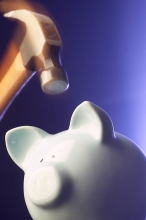 Recently I received an email (thanks T.A.) that contained an article from 24/7 Wall St. predicting the top 10 brands that will go away in 2011. To qualify, they expect the brand to be gone by the end of 2011, or for its parent to be sold or go into Chapter 11.
Since most of us are researchers and certainly all of us have an opinion I thought it would be fun to see what you think.
So today I will be showing you a brand with a short description from the article and you get to say if the brand will be going away by the end of 2011. There will be a prize $200 American express gift certificate to the person who has the highest score. This contest will be open for 30 days and we will post the winner on 12/31/2011.
Good luck!