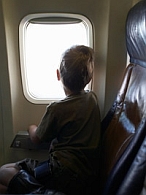 As my kids are getting a little older I am starting to think about at what age do they stay home alone and since their Aunts/Uncles and Grandparents live far away at what point do they fly alone?
I must admit that I can't imagine right now having them fly alone — I would be very nervous and even though I would put them on a direct flight it could still get diverted and they could get stuck — ugh and then I think "I have a lot of friends and if he gets diverted I could call one of them and they would help me out" and then I think "what if they land in a small city where I don't know anyone or they aren't home and he gets stuck?" You get my point I am really nuts about this and over thinking it for sure.
Am I nuts or do you think about the same thing?
But I still come back to my initial questions which are:
What age do/did you allow your kids to stay home alone?

What age do/did you allow your kids to fly alone

Any best practices you could share with regard to having your kids fly alone would be really appreciated.
I look forward to reading your thoughts and comments.