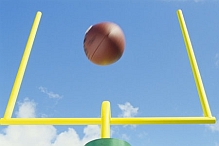 Well we are on our way with the football pool. Week one is almost in the record book and I have good news and great news!
The good news is I am leading the pack with 12 wins! The great news is I can't win – okay, great for the other participants.
Speaking of the other participants we now have 7 people tied with 11 wins each and 25 people with 10 wins. We have 2 games tonight to determine our final winner or winners for the week. To see the current standings click here. These results will be updated tomorrow as well.
The first week we had 115 participants so the winner this week will receive $75. And remember the weekly winners will be given a spot in the grand prize pool which will be in week 17 and an opportunity to win $400 and of course bragging rights for the next 6 months.
Click here to participate in this week's pool.
Feel free to share the link and have friends, colleague, relatives, kids and anyone else you want join the pool.
Good luck to all.