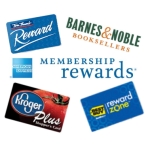 I am part of a number of loyalty programs. I gave myself 60 seconds to develop a list of all the ones I am part of (not including travel companies) and here is what I came up with:
Tom Thumb

Best Buy

Kroger Plus

Johnny B's

Cavalli Pizza

Barnes & Noble

American Express
I am sure I missed a few for sure. For me to join a loyalty program it needs to be a few things:
Very easy to redeem points for a free item

Not a ton of rules or fine print

Easy to understand how many points I have accumulated

Not get a tremendous amount of emails or spam.
There are a few of my rules.
What do you look for in a loyalty program?

What makes you say yes when the cashier asks you to be part of their loyalty program?

What loyalty programs are you part of?

Which ones are the best?

Which ones don't work?
I look forward to reading your comments.