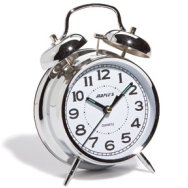 A few weeks ago The PGA Tour announced that Jim Furyk – currently sitting in third position in the FedEx Cup standings and one of the best professional golfers in the world – was disqualified from The Barclays Tournament for missing his 7:30 pro-am tee time by five minutes. I'm not here to debate if the rule is a good one or should be changed but it got me to think about oversleeping and what I have or others may have missed because:
You forgot to set your alarm

A storm knocked out the power during the night and messed up your alarm

The hotel forgot to call you with your wakeup call

You forgot to set up a wakeup call

Your blackberry alarm was on vibrate instead of alarm
I could come up with a thousand more reasons as to why you didn't wake up but the point is you didn't. I usually take very early flights and I can recall missing a flight 15 years ago because the power went out and messed up my alarm clock. Wow — what a day. Rushed to the airport and almost made it! But I didn't! I was trying to attend an AMA Program Meeting in Nashville and as luck would have it the next flight wasn't for 3 hours so it gave me plenty of time to think of my foolish mistake.
So what did you miss?
Doctor's appointment?

Meeting with your boss?

Flight?

Job interview?

Date?

Something else?
I look forward to hearing your stories.