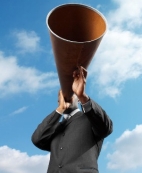 In the past few weeks a number of announcements have come out that I thought were very interesting. Some if not all could impact the research industry.
Facebook announced A Beginner's Guide to Facebook Insights
Is this an early indication that Facebook will eventually get into the research game?

When that happens will it be a good or bad thing for the industry?
Starbucks announced that you can pay with Your BlackBerry
Seems like Starbucks is getting even closer to their customers and research respondents.

How long before every retailer adds this as an application and adds customer satisfaction as well?

Is this a good or bad thing for our industry?
Skype Introduces 10-Way Video Calling
Next stop online focus group?
LinkedIn announced new and improved moderation features for LinkedIn Groups
Does that smell like an easier, better, less expensive way to set up an online community?
What do you think of these announcements?

Are you concerned?
I look forward to reading your comments.