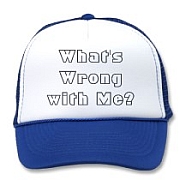 Last week I got dressed, got into my car and went to run a few errands. After I got out of my car I noticed I had a Denver Nuggets tee shirt, a Boston Red Sox titanium necklace, a NY Giants hat, Reebok shorts and Nike socks. I won't even mention my sneakers. What a mess! The funny thing is I am NOT a fan of the Denver Nuggets or The NY Giants. I just like the shirt and hat. I can't believe I have no consistency in what I wear from a team standpoint or even a sport standpoint. I tend to wear whatever. Yes I have a number of Red Sox hats and shirts but I rarely will say today is a day where I wear all the same team!
What is wrong with me?

Do you do the same thing?

Will you actually buy a hat or shirt of a team you might not like but really like how it looks on you?

If you are out of town and go to a game do you always buy a souvenir to wear?

Do you make fun of people like me who are wearing three different teams?
I really look forward to reading your comments.