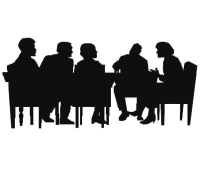 In past postings on this blog there have been discussions regarding the importance of having a personal mentor, that one person you can turn to for help and advice regarding your professional career. There have also been posts about developing your own "Board of Directors" so that you have a diverse number of mentors to solicit advice and guidance from. And most recently a discussion about maintaining a professional relationship with a person in their 20's so that you can view the changing world through their eyes. The underlining theme is that in order to succeed professionally you need to reply on the advice and perspective of people who have a different set of skills, talents and ideas in the business world.
One of my mentors, Bruce B. has always insisted that successful people need to build a team of highly skilled professionals who they can rely on for their survival and well-being. Bruce's "Dream Team" consists of the following:
A primary care physician, who knows you by name and knows your personal medical history
A lawyer you trust and you will provide some free advice over a dinner conversation as well as represent your best interests in court.
A qualified CPA to handle your taxes
A money manager to oversee your investments and advise you on matters relating to insurance
A member of the clergy for advice on personal and moral issues.
Years ago I took Bruce's advice and have five wonderful people (Laarni, David, Liz, Alfred and Henry) who fill those roles in my life. They have made my life easier to deal with during those stressful times we all have to endure.
Recently I got thinking about Bruce's team and decided that it could be expanded. Why not add a few more people, who not only make my life less stressful, but add many more intangible contributions. Here are some of the people whose services I rely on that make my life a lot more fun and enjoyable.
House keeper — For the last ten years my wife and I have been fortunate to have a fantastic housekeeper in Maribel C. Every Thursday our "White Tornado" cleans up after us and our four cats. We still do the laundry and dishes, but the hours we gain from Maribel's cleaning talents are immeasurable

Handyman — When it comes to D.I.Y. around our house I have "two left thumbs". Since 2006 we have been blessed to have the services of Richard W. Three to four times a year he spends his time drilling, sawing, wiring, hammering and keeping our house in great repair. I cannot even begin to imagine the state of our abode without his services.

Mechanic — I am the same with auto repair as home improvements, so every 3,000 miles my car goes to Mats K. and his boys. The last thing I want is an automotive surprise on one of Los Angeles' famous freeways.

House sitter — Both my wife and I frequently travel for business and leisure. On many occasions both of us will be out of town for weeks at a time. While we are out, we have Andy B. come in to collect the mail, look after the cats, water plants and give our house the "someone is living in there" look. True peace of mind when we are on the road.
There are many people who play important roles in our lives that help us succeed and prosper. I would like to know:
Do you agree with Bruce's list?

Do you think mine are as important?

Who is missing from our lists?

I really look forward to hearing from you.